Hi dear friends,
As I start penning some lines in this space, I am saddened by the political turmoil that is happening in the Aam Aadmi Party. The common wo(man) elected him with a historical majority, that few parties can boast of, to give Arvind Kejriwal another chance to clean up the mess with his 'broom' in spite of him getting down from the power after 49 days last year. But this broom, instead of collectively cleaning the political mess 'created' by other parties, doing more 'insweeping' which seems to threaten to wipe out this fledgling party. It is with the ouster of Shri Prashant Bhushan & Shri Yogendra Yadav, who are the founding members along with Arvind Kejriwal, the face of the party looks ugly and a seems to have a bleak prospective. Shri Prashant Bhushan threatens to form a new party as he complained of the dictatorial attitude of Shri Kejriwal. What will be the future of this party how will they fulfill the promises made to the voters if lot of infighting is going on. Who will be the winners and losers in this thorny political game. Winners can be anybody, but the losers will be the 'common man' (woman) who watches with dismay the 'other party' turning into 'just another party'. Is this going to be the fate of AAP? Or is it some more of birth pangs? One more thing I wanted to write about before getting to the main topic is about ICC world cup. Though it was known that Indian team was a weaker team compared to its Australian counterpart, the hype built around our team was so much that our players were considered as demi-gods. And when it fell like nine pins before the Australian team after a chain of victories, everybody felt it was their responsibility to crush them to their fullest satisfaction. Virat Kohli and Anuskha Sharma became the unfortunate punching bags who had to bear the butt of ridicule. Anushka Sharma went all the way to Sydney to watch Virat Kohli scoring 1 run! Even if you ask a newborn child, he/she will laugh and tell you that joke. But, amidst this noisy din, how many of us took notice that our ace badminton player Saina Nehwal became the world number 1 champ? Though she could not retain that spot for a long time it certainly deserved much more noise than the religion of cricket. Surely there is a world of 'other sports' outside this ever crazy cricket!
Now coming to the main topic. Advertisements of any form are always made to promote their products. Companies always need to spend crores of money to the media so that their products get noticed and sold. The emphasis is always on the product being the best among the whole lot available at 'the most reasonably' priced. So, many of the ads will look repetitive, same sounding and irritating. Even among these, some companies have tried to make their ads with a theme that is more lasting and appealing to the audience. There are many ads that were made during early days of Doordarshan and just watching them will make us feel nostalgic as they always stand out. The ads aired by washing powders like Surf & Nirma with iconic ladies, soft drinks like Coca cola, Rasna, the 'Hamara Bajaj' scooter are remembered even today by the folks who were growing up during that period. To be frank, during my childhood days, I always used to wait for the advertisements to be aired between the main programs. Many of the tunes were very catchy like ads for 'Hamara Bajaj', Pepsi's 'Are you ready for the magic?'(featuring Juhi Chawla and Shah Rukh Khan), Dinesh suitings' tagline 'Take the world in your stride', 'Out of the blue, where were you, Nivea girl',.... to name a few. Even though there are differences today in the creativity of themes for ads, the Indian ads look more appealing and superior compared to those aired in many other countries. The 'utterly butterly delicious' Amul is more known for the captions that they make which are related to the current events. One of the recent taglines of Amul celebrating Saina's world No.1 spot goes like this: 'Saina, Nehwell done!!Amul - Utterly 'Shuttley' delicious!' If there are ads that drive me nuts, they are, of course, those of fairness creams. They are my pet peeves. Most of the other ads fall under 'channel changing' category.
Are there any advertisements that come up with 'think out of the box' theme? Well, there are few that stand out from the rest in a way that they try to spread some messages instead of just highlighting their products. Almost a year back, Havells Home appliances came out with a series of advertisements urging the consumers to respect women. It is taken for granted that a woman uses all the home appliances and it is never in a man's domain to use them. One ad shows a prospective mother-in-law saying that her son who is working abroad is alone making coffee by himself and he needs somebody to make coffee. Pat comes in the would-be bride with an ultra modern coffee maker. The girl 'slaps' the solution on the elderly lady's face by saying that if he has a coffee maker he need not require a wife to make it and that he can make coffee anytime he wanted! Then there is an advertisement for the mixer-grinder in which the husband always complains to wife that she makes only one kind of chutney and that his mom made varieties of chutneys. The wife places the mixer on the table saying that it can make any variety of chutneys and that he can make those with the help of the mixer! An ad for hot iron shows a general manager's wife saying that if a general manager cannot even iron his own shirt, what will his employees think and she places the iron before him asking him to iron the shirt by himself!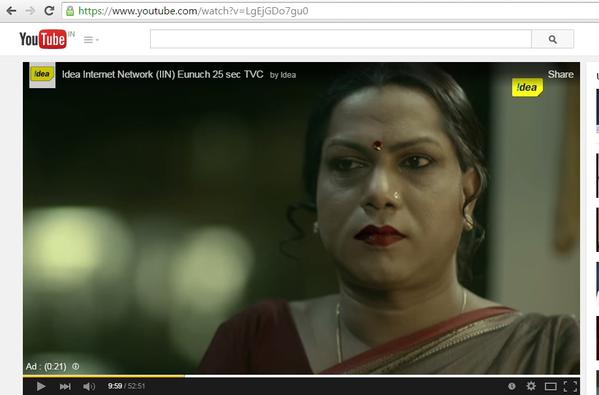 The media always gives importance to fair, slim, the ever young blemish-less women or girls. Jewelry ads always show young, fair-skinned girls adorning to her best for her wedding with all the latest ornaments. But Tanishq dared to tread a different path. There is this wheatish brown bride exchanging vows with a handsome young man & everybody around happy and smiling, when a small girl appears calling the bride 'mummy'.....I don't know whether it is aired today, but it impressed me a lot. Recently, the ads aired by Idea cellular services (IIN) emphasizing that caste, creed, boundary, gender is not a barrier when it comes to learning and that anybody can choose any subject to learn through the power of mobile telephony. There is one 'off the beat' ad showing a transgender's burning wish to learn in spite of all the oppression she faces from the society due to her 'dual' gender. Hats off to the Idea company which worked up this 'idea', trying to break the stereotypes.
Before I end this topic, I can't help mentioning an ad that is telecast by the Airtel in which the past school children spot the 'ice-cream uncle' by chance. Now young adults, they decide to spring up the surprise to their favourite ice-cream uncle by gifting him an ice-cream van for all the change that they owed him when they were children. It concludes with all the school children enjoying ice-cream and taking group selfies with their favourite uncle. It is such a heart warming one, and you would want to watch again and again.
There should be more ads which send out powerful messages instead of just highlighting their products. Those products are sure to get noticed more.
Deepa.